Howdy visitors & Friends! 
As you may know/heard (or have met me recently along this embarkment/Journey of bringing "History Alive" with "HINT- HISTORY & MUSIC"- *Which just recently hit me like a TON of bricks to do* JUMP HA!- AND I AM! 
I have taken on a challenge to travel across the country to as MANY CITIES & STATES as possible posting on ALL social formats - HINT - HISTORY & ORIGINAL MUSIC-  Where you can try to guess where Im at with the hint of history in the area/city I m currently in- This is a NEW creative way to reach YOU, grow evolve & KEEPING the "Movement of Art" ALIVE & Well! 
I NEED A TEAM OF 100 PPL for this & one day I will- However, at this time, it's lil ol me doing what my heart is calling me to do & I will do my BEST to provide the COOLEST experience EVER 
I traveled to Northern Nevada through Death Valley this week- ended up in Pahrump NV... Cool lil town.. Worked my way through some AMAZING desert places - Being the 1st week doing this as a test run, you'll find the adventures/posts/music here----> www.facebook.com/AthenaMcIntyreMusic 
  I drove to a mountain on the way to Death Valley- A side detour that looked pretty cool *and NO ONE was even there*  for some cool shots & videos etc... All of a SUDDEN 10 minutes later there was a gaggle of folks!! (Shout out to the fam & son * who followed the music through the mountains to find me out in the MIDDLE of no whereVille and JAMMED on the Ukulele!! LINK HERE to vid----> Music Moves    Keep it up kiddo!! Raindrops keep falling on my head- Oh, & The pick I gave you- Is MAGIC ( I kinda miss it already, but it was time to pass on to you)  & even threw me $10 BUX! It paid for my dinner that night- So thank you for the cheeseburger!!   And a HUGE shout to the fella who sent me a couple of those vids on Instagram! A memory we ALL will cherish in the middle of nowhere- sometimes being lost you're found.... 
I then traveled to White Rock Canyon in AZ- A bit of an off track adventure & LIVE video but met the coolest guys!! I was LIVE on FB and they were attempting to drive their camper on the skinny road, and almost TIPPED IT! I stoped to see if they needed help- All worked out, they backed up and were able to get out of the situation! PHEW! I gave them a sticker told them what I was doing & they SLAPPED it right on the BACK of the CAMPER! Just SO SO COOL!  
Thanks for sending the PIC!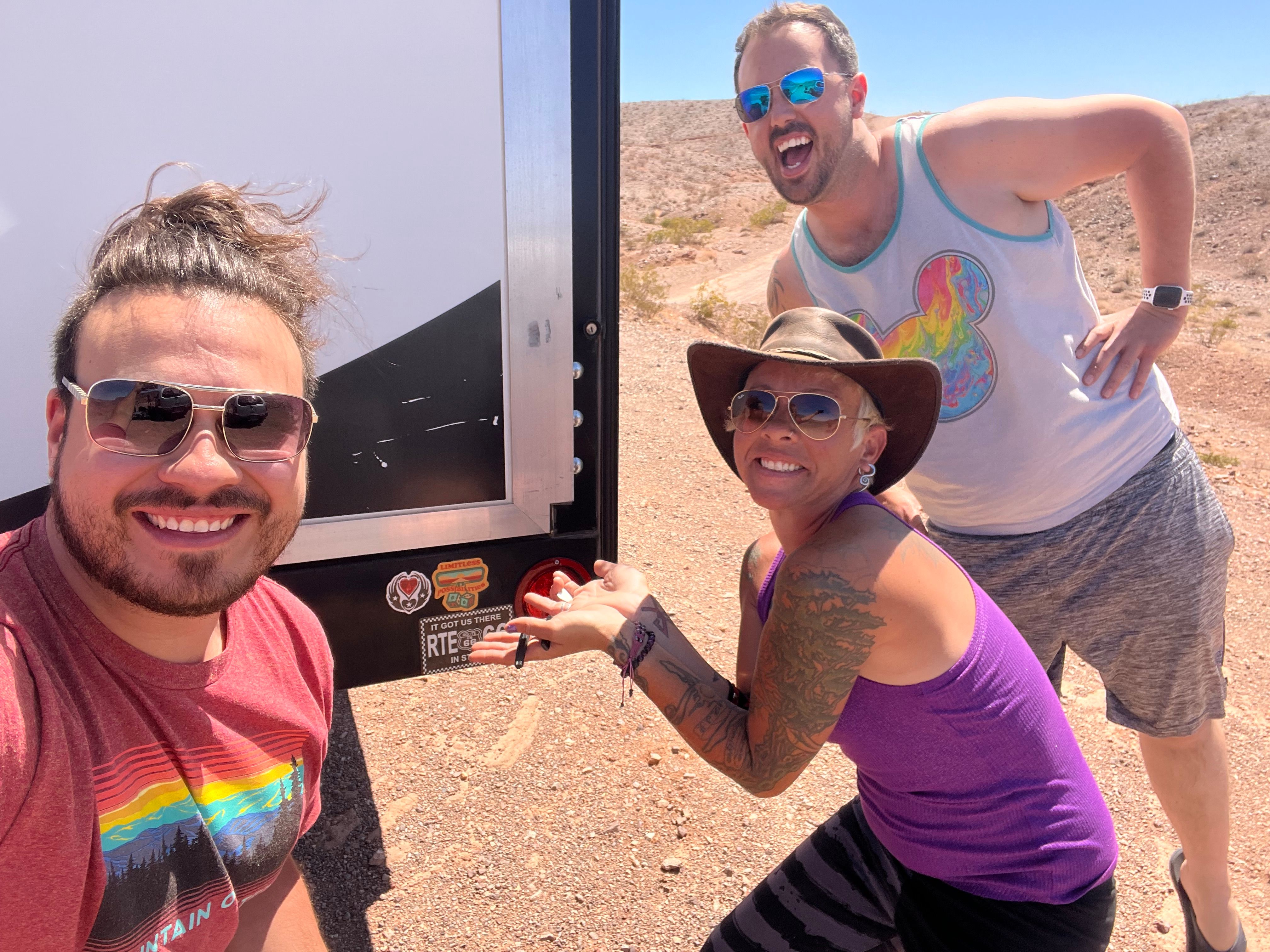 LINK TO VID with THAT adventure here ------> White Rock Vid 
Busked in Tonapah (If you're the folks who tipped me $10 at the front of Tonopah Brewing CO-- THANK YOU!! I got my booty to Hawthorn! - Landed in Hawthorn & made my journey back home just yesterday evening *with just enough gas!* PHEW! 
As a FULL time musician & taking this journey on I do live off tips & payments from shows booked & generosity of other along the way- So if you see me--- Say HI! I'll play you a song or 2!  
No shame in asking for your help at this point....KEEP THE MOVEMENT OF ART ALIVE, (Each donation I receive from YOU- I'll send you a PERSONALIZED PIC with your NAME (if you so chose) & post on ALL formats as well from the area YOU helped me get too!  
If you'd like to Donate to this cause click here-----> https://account.venmo.com/u/AthenaMcIntyre & THANK YOU for supporting an Artist out there doing MY best to continue the movement  
As a traveling musician "living on the edge, penny to penny", not living the "formulated life" we've been taught, (A 9-5, house, such on & such forth *which I do work towards a dream of having a tiny home on a lot growing my own food at some point*) I live from my heart (hence my logo)- I'm inventing & reinventing creative ways to reach you with "Hint & History" including original music- (self indie produced 100% recording myself, learning how to evolve in this MP3 download no CD's techy world) this is my dream- to travel, reconnect music/art & live off a passion that calls to me so deeply. Society would be lost without art in all aspects....I'm not per say "wealthy" in the way "western" society thinks we should be at a certain age- I'm wealthy with love, gratitude, growth, knowledge- (working on my own truck *Hipsey* to keep the adventures going, music equip every moment & $ I attain *when I save enough $ up to perform what I hear in my soul*) researching all avenues to be self sufficient as best as possible & being able to lean on a few real friends who are my family, and the few strangers needing/wanting the connection too... & experience every day fighting and never giving up by following this calling...  
I hope that more people will come back to reconnecting..(we've lost our ways, I've witnessed it 1st hand). Be curious & gentle with us artists out there doing what we can to connect to YOU. I only want to bring you & myself love, light, passion , growth & evolution-  
**Maaaybeeee & hopefully it'll reignite others and inspire the younger gen to live a life that feeeeels gooooood** I know it's possible.. and I will stand strong & steadfast no matter what.. endurance at its finest to NEVER GIVE UP ON YOUR DREAMS! No matter how "big or small" they may seem...  
"This is the way".... This is a full time job for a lot of us artists out there and I don't think people realize that we are living this way to keep the "movement" Alive. At any & all costs... it's risky biz! But worth all the contrast & more that it offers . So when you tip or pay us.. that's our livelihood & I thank you for that.  
If you see me gallivanting around on these journeys- please don't hesitate to say hi... and chat... 
 YouTube ---->  YOUTUBE   Also posting on TIKTOK------> TIKTOK
 LIVE videos *When I have service**-  
STAY TUNED FOR THE NEXT ADVENTURE! And don't forget to sign up on my email list  
Cheers- Love- Blessings On this journey Of Life! Live it to the BEST YOU CAN